Island and Continent: A Story about a Kaifeng Jew and Rabbi Einhorn in Taiwan
By Josh Zuo, 2021-2022 J Leaders Leadership Academy Fellow
I'm Josh, a descendant of the Kaifeng Jewish community. I studied under Rabbi Ephraim Ferdinand Einhorn when I was a Master student in Taiwan. Rabbi Einhorn passed away at 103 years old and I feel it's my duty to share the story about Rabbi Einhorn and me.
Before I tell this story, please allow me to share a brief introduction of my family's history. Kaifeng having been the capital seven times in ancient Chinese history and remained the capital of Henan province until 1954, both my grandmother and grandfather were born there.
My grandfather was raised as a poor country child, but he is super smart, he can speak three languages. He became a student of the Medical school of Henan University, which was very rare at that period of time in China. And that's how he met with my grandmother, a landlord family's girl. Attracted by his talent, they got married after they got their bachelor's degrees.
Then they moved from Kaifeng to a more southern city, which was a smart move because if they hadn't, they might not have been able to survive during the Great Chinese Famine of 1958–1961. The situation of Henan Province at that period of time was a disaster.
My grandparents managed to avoid material disaster, but as an Intellectual, a minority with his own opinion, my grandfather couldn't escape the cultural oppression. That's why my father and I had no sense of religious background when we were raised.
Anyway, Taiwan became my grandfather's dreamland – although the situation in Taiwan at that period of time was not so good as well – he still regrets that he did not flee to Taiwan, and that's one of the reasons why I chose Taiwan to study in.
Back to my earlier life in China, when I lived in China, I knew nothing about religion. My biggest dream was to become a scientist and I got two bachelor's degrees, one in tech and another in economics. I'm also very interested in philosophy, especially the topic like the beginning of the universe. I love to track the most basic, fundamental principle. I always ask, what was this before, and what was the before of the before, and the beginning of the beginning?
Then I realized that there is a big limit of rationalism. Like if we believe in the Big Bang theory, we track everything back to the singularity, but what are the things going on before the singularity? There is no space, no time, nothing. And why it's odd, why it is one, not two, or three? And more importantly, who created the singularity? How could it exist without a beginning?
Then I began to realize that some exist is unquestionable. The Creator exists, and the Creator exists, the Creator should be one.
The end of rationalism is the beginning of belief.
So I began to believe in the existence of God, and God should be one. But I still had a big problem, I had a sense of one-god belief, but which religion should I practice? I'm still a rational guy and I would not choose my beliefs just by flipping a coin.
Obviously, Christianity and Islamic are easier to access in the mainland of China; Judaism is even not one of the five legal religions in China; there is no category for Jews in the Chinese list of 56 ethnicities, no space for the Jewish ethnic group. We Jewish descendants could only use Han or Hui on our ID cards; there is no category for Jews in the Chinese list of 56 ethnicities. The Han is the majority of the Chinese population and Hui basically is the Islamic Chinese minority. The local Kaifeng people know we are different, they use different colors to distinguish us, calling the Muslims "the Hui with white hats" and the Jews "the Hui with the blue hats (kippah)". That's why my grandparents used Hui as our ethnicity on our ID cards. (If you are interested in this topic, I recommend you read the article "Chinese Jews of Ancient Lineage Huddle Under Pressure" https://cn.nytimes.com/…/20160926/china-kaifeng-jews/dual/.)
As you can imagine, there is no way for me to find a synagogue, so I decided to have a look at the church and the mosque instead, and I have to say I got totally different feedback from these two religions.
I went to visit a mosque during the summer and the weather was really hot. I have zero religious knowledge and I'm wearing shorts, showing my knees, so they didn't welcome me because I was not respectfully dressed. (By the way, later I found out that Orthodox Judaism has the same rule, so I'm happy that I went to the mosque before I went to the synagogue!)
Then I went to a church and I had to make a basic self-introduction at the beginning of a Bible study class. After class, the leader, a missionary, came to me directly and privately and the first question he asked me is where my ancestors came from. After I told him that my ancestors came from Kaifeng, he told me that, although he is a Christian, his major is research on Judaism so he knows I'm a descendent of the Kaifeng Jews. Because my family name, Zuo, is very rare among normal Chinese people but is one of the most important family names in Kaifeng Jewish community history. Tang Zuo was the first high-level Jewish officer in ancient China records. He was also the author of the 1512 Kaifeng Jewish stele. You can still see this stele in Kaifeng now. In fact, there are just two groups of the Zuo family among the Hui Chinese. One is in Hainan and they are Mongolian descendants who converted to Islam. The other Hui family is the Kaifeng blue hat Hui, who are Jewish.
By the way, there is one interesting thing, if one family all moves out of Kaifeng then it seems that the rest of the Kaifeng Jews will erase that family name on the 1489 stele. If you look carefully at the pictures of the ink rubbings of the 1489 stele and 1512 stele there should be 17 (shi qi) family names or 70 (qi shi) families in the Kaifeng Jewish community, but you can see very clear marks of erasure, meaning that they changed the number to only 7 (qi) families – and that's how Seven Clan families came about. And this action seems happened quite recently, within the past 100 years. You can still see the full text of the names listed in other places. For example, "The Jews of Kaifeng in Ancient Times: A Summary and Study of Chinese Documents" shows the full text in ancient Chinese as: "There are Li, An, Ai, Gao, Mu, Zhao, Jin, Zhou, Zhang, Shi, Huang, Li, Nie, Jin, Zhang, Zuo, Bai, etc., seventy surnames." "Seventy surnames" is suspected to be the wrong spilling of seventeen surnames because of the seventeen surnames listed. But at least the 1512 stele and the author's name, Tang Zuo, still remain.
And my grandmother's family name is Jin. It is also very rare among Chinese people, just not as rare as Zuo, and also one of the 17 families of the Kaifeng Jewish community, and some members of the Jin family still live in Kaifeng. My grandmother's family moved from Kaifeng to Beijing before my grandparents moved to southern China. My great grandfather was a provost of Peking University but due to fear of revolution, he ran away back to his hometown of Kaifeng and got married there.
More importantly and coincidentally, the leader of that Bible study class, his professor is also a Kaifeng Jew and a very successful businessman who owns four on-listed companies. Considering the number of Kaifeng Jews in China is less than 1000, the possibility is very low that two Kaifeng Jews would be connected in this way. (The story about this professor and me is worth another article, but not today.)
So I was more welcomed by the church because Christians also claim they are the descendants of Issac, not Ishmael. I thought this might be the path that the LORD leads me to go on. So I spent a lot of time in this church studying the Bible, whether the so-called "New Testament" or "Old Testament" and, although I doubt some fundamental issues like the Trinity, I still decided to be baptized and become a Christian. The missionary did welcome me to become a Christian but when he found out I was going to study in Taiwan, he suggested that I be baptized in Taiwan instead of mainland China because the baptism in Taiwan is more traditional and not just sprinkling water on the head.
I think that's reasonable, good stuff worth waiting for, right?
So I waited until I flew to Taiwan. I went to a church less than one week after I settled in Taiwan and the first sentence I said to a church member is: I want to have a baptism.
But suddenly everything changed.
If you have been to Taiwan, you know that the people there are very friendly and welcome everyone, everyone except mainland Chinese. Taiwanese are eager to seek friendship and admit people from foreign countries. The more friendly Taiwanese welcome foreign people, the more hostility they show to the mainland Chinese. It's about geopolitics. More and more Taiwanese people are trying to seek independence (from China) and both sides launched a massive propaganda war. The people like me have to suffer from it. I will always be in the minority, even the minority of the minority, whether in China, or Taiwan, even in the United States.
So just like red-hot iron meeting cold ice, even though I was in a church, I still felt hurt, and I just wanted to run away. I also asked for help from some other Christian organization, but it still was not so helpful. I still receive their weekly email until today.
So I started to explore other possibilities and I searched online and got the contact information for Rabbi Einhorn. One day, finally, I got up enough nerve to send an email to Rabbi Einhorn. Rabbi replied and asked to have a meeting with me. During the meeting, Rabbi asked me a lot of details about my family, kind of like a background check. After he confirmed my identity, he asked me to join the Shabbat service.
I still remember the view of the sun and clouds after I stepped out of Rabbi Einhorn's office. I looked at the sky and God seemed to be staring at me and smiling to see his work.
So I started attending services. Now, unlike other Taiwanese who rely on public transportation or motorcycles, I have a car and I do enjoy driving, and this makes me free to take the responsibility to drive the Rabbi from his office to the synagogue and back to his home.
Rabbi Einhorn, although he was 97 years old when I met him, he was still as aggressive as a younger man. When the traffic signal turns from green to yellow, sometimes Rabbi will even argue with me, asking me why I did not just go through the light, and I feel so funny, and laughably explain that this is for concern of his safety. But he says that if we always go the light we'll go through so smoothly because I'm with you. And after I'm more familiar with the time set of the traffic signals on the way between the synagogue and office and home I can see that he is right. We even invented a kind of time racing game, just counting the seconds that we can go through, and when we go through and it turns to yellow, I cheer like we won a game: "We did it!" Our relationship was not just driver and passenger, it was more happy and joyful. Sometimes he could behave more like a naughty boy when he is with me and I think that's why Rabbi loved to let me take him for a ride.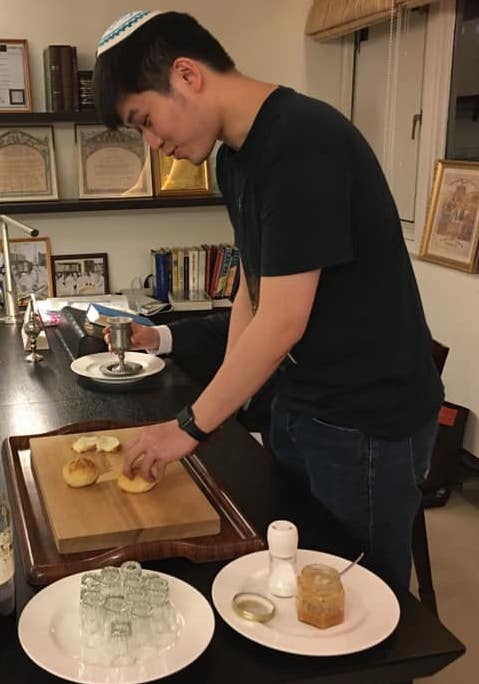 Before I took the responsibility of driving Rabbi Einhorn, he used to take a Taiwanese taxi, and he would quarrel with the driver, and the driver would become so angry that he took the rabbi back to the place where he got on board. Can you imagine a 97-year-old foreign man arguing with a local Taiwanese taxi driver on the road? That's so funny. In fact, when we introduced the age of Rabbi Einhorn, he always said, "I'm not 97 years old, I'm 97 years young." Whatever his real age, he always lived like a young man. And I believe this kind of spirit is one of the reasons why Rabbi had such a long life.
As some of you may know, Rabbi Einhorn lived in Taiwan for a long time, it seems that he can understand a lot of Chinese words even sentences, but he refused to admit that he can understand any Mandarin. So when people have some drama on some issue, what I call synagogue political, sometimes they will discuss it in the car in front of the Rabbi, then Rabbi Einhorn can understand what's the people's real thoughts. I didn't know this trick until about one year later, but whether in Chinese or in English, every time I always try to stand with the Rabbi, which makes Rabbi and me become closer and closer.
The other interesting story is that once I took Rabbi Einhorn back from the synagogue to his home. Rabbi seemed to have some seat belt issues, so I stopped the car and tried to help him. What's interesting is that we stopped exactly in front of a small police station near the synagogue and, after I opened the driver's door and ran to open the back seat door, the police officers thought we are going to file a case or something, they all came running out of the police station, staring at us, a young man and an elderly foreign gentleman. They asked: "Anything wrong?" "We're all good!" I replied, and then I helped Rabbi Einhorn fasten his seat belt and we drove away, leaving the police officer alone to scratch his hair. I was laughing with Rabbi Einhorn all the way.
Due to the switch of the modern rabbinic Judaism from the male line to the female line, and because the Kaifeng Jews still follow the traditional male line, Rabbi Einhorn hosted a conversion ceremony for me with several witnesses. I still remember that day what he said to me: "Welcome back, finally you found your roots." Such simple words, but so meaningful to me.
In fact, I always say it's a miracle that I met Rabbi Einhorn in Taiwan,. You know, we Kaifeng Jews never call ourselves Jews or Judeans, we call ourselves Israelites. It may show that we are the descendants of the kingdom of Israel, the so-called Ten Lost Tribes. According to modern studies, we moved to the east, first to Persia, then India, and finally settled down in Kaifeng. Meanwhile, the descendants of the kingdom of Judea, the Jews, moved to the west, basically to Europe – just like Rabbi Einhorn, who was born in Vienna. Both of his parents were killed by the Nazis. He fled to Britain and become an orthodox rabbi, then came to the US. Finally, we met on that small island called Taiwan.
Rabbi Einhorn will be buried in Israel. He had traveled across the whole world, and finally, he will return to our shared ancestral home, our Holy Land.
Now I live in America. As a co-founder of a tech startup in the Bay Area, my journey is still going on. I also met a lot of Jewish friends here, in fact, America is also a big island, just big enough can be called a new continent.
We, Rabbi Einhorn and me, all the Jews and all the Israelites shared the same starting point on the old continent, we just chose different directions, then, after witnessing so much tragedy on the old continent, as the descendants from the kingdoms of Judah and Israel, we met on island or continent for a short time. In the end, across the whole world, we will meet in the same destination again, where all the story begins and all the story ends. I hope that one day, my child or I will also go back to Israel.
This is the fulfillment of the prophecy, the reunion of Judah and Israel, as noted in Ezekiel 37: "The word of the LORD came again to me, saying, "Now you, son of man, take for yourself one stick and write on it, 'For Judah and for the sons of Israel, his companions'; then take another stick and write on it,' For Joseph, the stick of Ephraim and all the house of Israel, his companions.' Then put them together for yourself one to another into one stick, so that they may become one in your hand. And when the sons of your people speak to you, saying,' Will you not declare to us what you mean by these?' say to them, 'This is what the Lord GOD says: "Behold, I am going to take the stick of Joseph, which is in the hand of Ephraim, and the tribes of Israel, his companions; and I will put them with it, with the stick of Judah, and make them one stick, and they will be one in My hand."
This is a brief article of the story of Rabbi Einhorn and me. A Taiwanese publisher used to ask me to write a book about Rabbi Einhorn. I discussed it with the Rabbi and got his permission. He also provided a lot of resources to help me. I will try to finish it one day.
May his memory be a blessing.
Stay connected to J Leaders here.
Reprinted with permission of Points East, a publication of the Sino-Judaic Institute.
Note from Josh Zuo: Thanks to Rabbi Anson Laytner (president of the Sino-Judaic Institute), Peter Hoffman (CEO & Founder of J Leaders), and Monica Rodriguez Kuniyoshi (Board of Directors of J Leaders). Your encouragement and support made this article come true.